The Houston Project - Aaron Kai
Nov 9, 2016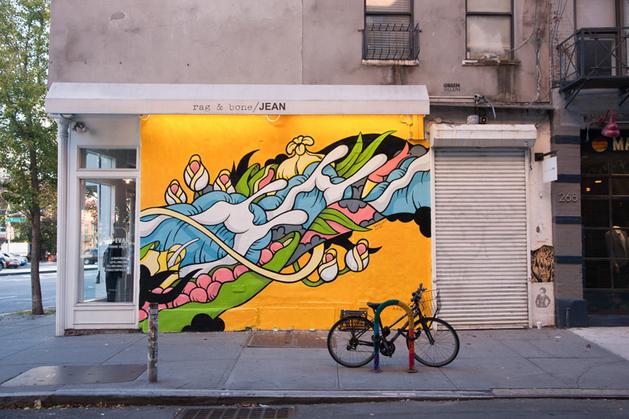 This month, Hawaiian post-pop artist Aaron Kai brings a world of color to the Houston Project. Influenced by surf culture and anime, Kai often draws on his Big Island roots for inspiration.
Check his piece out on the corner of E. Houston and Elizabeth Streets in New York during the month of November and read on below to learn more about the artist...
Can you tell us a little bit about your piece for the Houston Project? What was the inspiration and process behind it? How long did it take you?
The piece is called "Bouquet 2016" and is a post-pop abstract render of what I see as movement towards something better. Most of the inspiration behind this piece is "love" or the lack of it sometimes. The world needs more love and the world needs to smile and be happy. I hope that's what my piece does to people as they walk by.
Your works are always so vibrantly colored...do you often draw on your Hawaiian roots when you are working on a new piece?
I'm a child of the 90's, I love color, I love bold lines and big shapes. Growing up in Hawaii was a sensory overload that I didn't get until I was much older. I didn't know that our grass was greener, water was bluer and flowers brighter. Subconsciously I was always channeling my Hawaiian roots, I just didn't know until I started being asked about it.
What are some of the most exciting places you have travelled to complete art installations?
Definitely Hong Kong, crazy little international city. Malaysia and Singapore were amazing as well, the people were the nicest people I've met. Paris always treats me well and welcomes me with open arms.
What artists do you most look up to?
I look up to the greats, I love Lichtenstein, Murakami, Koons, Warhol, Jasper Johns, Kaws, Parra, James Jean, I could go on. My biggest influence is Warhol due to all the stories I've heard about him and his marketing schemes to make his art bigger than it should've been.
Follow @aaronkkai on Instagram for more.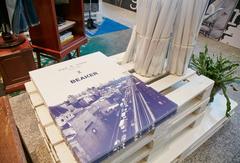 Next:
Nov 9, 2016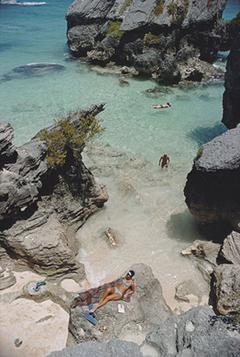 Previous:
Nov 9, 2016