The Houston Project - Fabrizio Morett's
Oct 31, 2013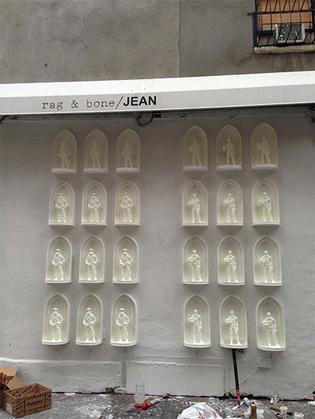 This month, The Strokes' Fabrizio Moretti staged the Houston Project's first art installation.
The star, who studied sculpture, reveals the inspiration behind his work and why he had a hidden camera capture people's reactions to it...
Can you talk us through your project?
The idea for the installation came about specifically for the wall at rag & bone. I had been interested in working out a piece that would continuously evolve by the viewer's hand, but it hadn't dawned on me how to construct a system that would imply it had been changed even to someone unaware of its original form. In addressing the wall of a retail store I came to realize that the shelves within the shop constantly display the presence or absence of any specific item. An empty slot for a commodity would never simply suggest, in our day and age, just an empty shelf but rather the desirability of the object which once occupied it. I thought it'd be interesting to construct a public source of free sculptures with no encouragement but also no deterrent from its disturbance that would serve as a physical chart or display of audience influence on a New York City street. Referring to niches that encase statuettes of saints and madonnas in European architecture, I modeled arched stark white shelves that would hopefully infer religious typology to both elicit doubt in the viewer and to draw a sense of esteem to the pieces in my outdoor store. I carved statues of astronauts and cosmonauts not only to idolize symbols of a bygone era where science was akin to heroism, but also to source from images that would likely be the subject for factory-line toys of my youth, pouring two sets of twelve identical stark white polyurethane resin 'nauts'.
How did you feel when the statues were taken?
When the installation went up the figures were set into the niches with Velcro. After the first was taken overnight, the piece was made open for business and the rest soon followed within a couple of days. The results were documented with a hidden camera and systematic still photographs throughout. Soon thereafter a second set was poured. In a hopeful but fruitless attempt at dialoguing with strangers, I asked for more time from people by adding hooks to the bases of the figures that didn't prohibit their disturbance but certainly increased the amount of time needed to remove a statue from the niche. The second set was poured with a grayish hue. The third set was poured in black. I thought I'd be prepared for it but it was still hard. In the end I'm honored that some people wanted them and I hope that they're enjoyed.
What was it like working on the project in public - were you recognized much?
It was rewarding at times and distracting at others. I had very engaging conversations with interested onlookers. I don't think anyone knew that I was a musician.
Do you listen to music working on your art and who are you enjoying right now?
Whatever my iPod feels like listening to that day. There's a great New York City band called Skaters that I've been enjoying a lot.
Aside from being a great musician, we now also know you're a skilled artist - what else would people be surprised to know about you?
I don't know about being a great musician or a skilled artist but I make a mean winter minestrone soup.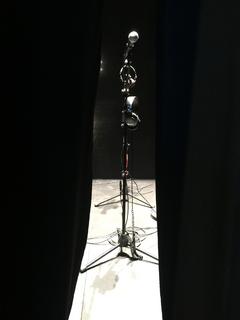 Next:
Oct 31, 2013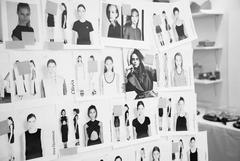 Previous:
Oct 31, 2013