The Houston Project - Hisham Bharoocha
Jul 21, 2015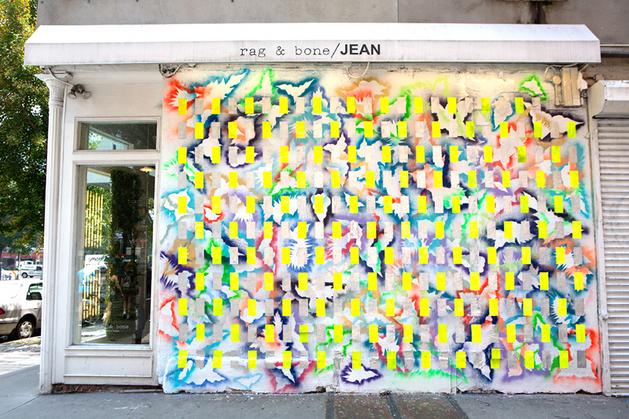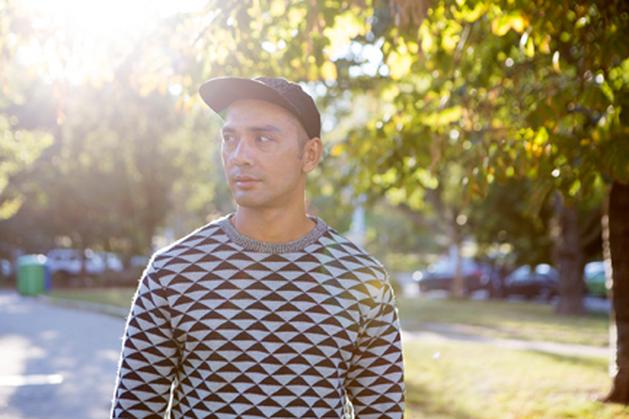 Brooklyn-based artist and musician Hisham Bharoocha recently completed our Houston Project.
Below, he discusses his work, his influences and his love of fashion...
Does your Houston Project mural have a name?
Still From Continuous Movement.
What inspired it?
I'm constantly trying to create visual references to how I feel daily experiences we take with us melt and morph into each other in our minds. I'm fascinated by how each person has a different reference point to an image, shape, sound, smell and so on. I think that is a very interesting thing since we all base our choices on how we were brought up, what cultural background we have, our geographical location.
I love creating work that leaves space for interpretation, so my stencils reference organic forms in a way where people can decide through their own mental filters what they are. They could look like organs in the body, or clouds or whatever one may see.
The rectangles on top of the stenciled pattern speaks about controlled structure, and how we try to create a controlled environment around ourselves physically as well as mentally. The contrast of the loose abstract shapes verses the geometric pattern on top of it is a way to show how I visualize the mind trying to organize and understand the daily experiences, thoughts, emotions which we deal with moment by moment.
You are renowned for your heavy use of color. How would you define your style?
If I made a catchphrase regarding my style I would say it's about 'finding balance in a chaotic, over stimulating world'.
You moved from Japan to Canada and back to Japan before settling back in the United States. Did being exposed to different cultures influence you?
Very much so. I'm half Japanese and half Indian Burmese (my family descendants migrated to Burma / Myanmar from India) so I've always been on the cusp of cultures, where I don't fit into one or the other completely. I moved around as a kid so much I never settled into one city, so I don't have a real base that I can call a hometown.
Jumping from culture to culture made me realize at a young age that our view points on what is going on in the world, or even on a person to person level are formed from our upbringing.
I think my childhood let me to look at the world more objectively. My work is about my fascination with the human mind and how each person has a slightly different mental architecture which dictates how one perceives the world through their senses.
You're a multi-faceted artist - from photography to music. How do you find time for all your creative endeavors and is one in particular your true love?
I don't take too many breaks between projects so I can make as many things as I can during this lifetime. The creativity that comes most naturally to me is creating music or playing instruments. That said, making a living from playing music has become much harder over the years. So much music now is made electronically, and there are smaller budgets for live performances to happen, recording is expected to be done by the artist on their own computer, unless you are an already successful artist where labels cater to your needs. I've never made music that is for the masses so my visual work, which I love doing equally, has helped me make a living as well as become a way for me to communicate to a larger audience. I went to RISD finishing with a BFA in photography but making a living soley from photography wasn't for me.
I found over the years of trying to figure out how to make a living and what I wanted to do with my life creatively that I was meant to use all these mediums to express myself and my view point of the world.
You collaborated with Solange on her Puma sneakers capsule collection. What was that experience like and is fashion design something that you wish to pursue further?
Working with Solange and Puma has been great. She's a friend first and foremost, but she has given me a lot of creative freedom with the sneakers we have designed together. It's a very balanced work space where we can give each other input and we take it all in. It is amazing to work with a company like Puma because they have access to the most incredible materials. They have also been quite gracious in letting me execute the designs that I came up with. During my teenage years I lived in Tokyo, Japan so I became obsessed with street style. I still am obsessed with clothing. I'm not a clothing designer but I love applying my visual style to clothing. It's fun to see people wearing something you helped create. It's a way for people who don't buy art to own something that showcases your art style which I think is great. The joy of wearing something you love is a special feeling.
What are you currently working on?
I'm getting ready to work on a large mural for the Pacific Park Arts project organized by artist Mike Merry. Me and a group of amazing artists will be installing murals all day 8/15 Saturday (more information about that project here). I'm also working on a mural project for Refinery29 which should be showcased during fashion week this September. I'm working on musical projects under the names Zanzo, Soft Circle and IIII (read Four). Keep your eyes peeled for new releases.
Which artists are currently on your radar?
In terms of large scale art installation work that inspires me I'd say I'm loving what Katherina Grosse has been making. I've also been obsessed with more minimalist work these days by artists such as Robert Erwin, Blinky Palermo, Agnes Martin, Anne Truitt and so on. Sol Lewitt has been an inspiration for a long time.
Follow Hisham on Instagram @softcircle Next:
Jul 21, 2015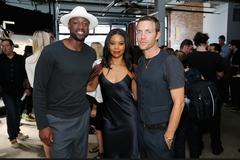 Previous:
Jul 21, 2015