The Houston Project - Jan Kaláb
Jun 28, 2016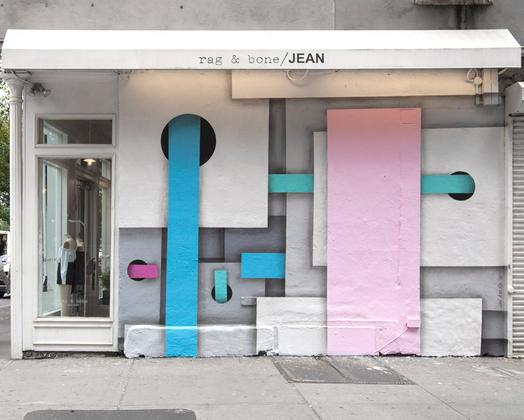 This month the Houston Project welcomes Jan Kaláb. Hailing from Prague, Kaláb has travelled all over the world pioneering the graffiti movement. Now his colorful Project, entitled Back to 60's, brings Miami summer vibes to the streets of New York.
Check out an image of the mural above and read on to learn more about the artist...
How did you first become interested in graffiti art?
I saw a video by Malcolm McLaren called "Buffalo Girls" when I was maybe 13. I immediately knew I wanted to do that. At that time there was no internet, so it was pretty difficult to find out what it was called that Dondi was painting on the wall with spray cans. Until 1989 there was the "iron curtain" around my country, so all the information and goods from the western world began to come after that year.
Can you tell us a bit more about the emergence of street art in Czechoslovakia and how you helped to pioneer the movement?
I will talk about graffiti, because it was a much stronger movement. Street art originated out of graffiti.
The first graffiti pieces appeared in early 1990 around Prague. This pieces were done by French and German tourists shortly after the communist system collapsed in late '89. In 1991 a couple of Czech guys began to write graffiti too. That was the first generation. I did my first piece in 1993. After a few years we learned how to do graffiti, we found our style and the real graffiti scene was established. We hit the streets, the subway cars and halls of fame around our city. More writers from abroad came and we began to travel around. In the late '90s the Czech scene became part of the European scene. In 2000 I went to New York with my other two partners, Romeo and Key, and we painted panels and whole cars on the subway. No one from East Europe did anything like that before. We became part of the world graffiti scene.
You've developed a reputation as a street artist under many names as you've travelled around the world, first as the founder of DSK crew and then as Cakes and Point. Is there anywhere (or any name) in particular that you especially identify with?
Yes, Jan Kaláb. My real name. All the abstract works I do now are under this name. When I do graffiti pieces from time-to-time I use Cakes, this name comes from "splash" translated to Czech language. It has nothing to do with cake in its meaning. I was really disappointed after I realized what Cakes means in English by the way.
What was the inspiration behind your Houston Project? You made the quite the journey from your home in Prague to take part!
The location is fantastic so I had to take this opportunity without question! About the piece itself, the format of the wall is always very important to me. I want my paintings to become the wall, or rather the wall to become my painting. This type of square-shaped wall needs similar shapes. There is a lot of white around so the pastel colors work very well in my opinion - something like summer breeze from '60s Miami.
Follow him on Instagram @jankalab.