Q&A with SS16 Collection Film Star: Ninja
Jul 14, 2015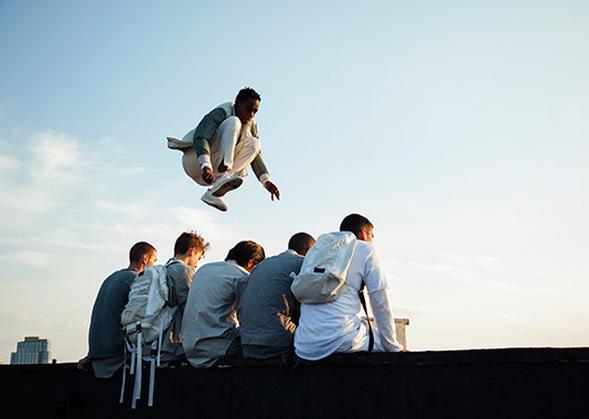 Our menswear SS16 collection was influenced by parkour and the idea of movement.
Continuing our commitment in showcasing our menswear collections through engaging films, we enlisted a group of guys who practice the art of parkour to showcase the season's clothing.
After WW1, Paris-born naval officer Georges Hebert invented the classic military obstacle-course, Parcours Du Combat after being exposed to the agility of the natives in Martinique while fleeing a volcanic eruption. Influenced by his military father Raymond Belle, in the late 1980s Frenchman David Belle would adapt the concept further and become the pioneer of parkour as we know it today.
Today, a global urban sport, practitioners of parkour use their bodies and a myriad of physical movements, from running, jumping, climbing and flipping, to overcome obstacles in their paths.
Brooklyn-based Shane Samuel has been practicing parkour for seven years and now trains others in the art.
Shane, who stars in our SS16 collection film along with other Bullettrun members, explains what parkour is to him.
What is your parkour nickname and how did you get it?
It's Ninja and I got it from my mother-in-law.
Why did you get involved with parkour?
I think because of where I came from; the island of Grenada, I had a natural background for it from the everyday things we did like walking miles and climbing hills and jumping off cliffs into water. I like the feeling and the freedom you get from it.
What is the first thing you did in parkour that you are proud of?
A backflip! It took me four days. When I started this there wasn't particularly a lot of people in this area doing it, so I couldn't find someone to teach me. I'd go to YouTube and watch this video clip over and over and go in one spot and keep trying it and trying it.
Can you explain your training regime?
I am a very adventurous person so I love different trails. Sometimes I would just run for miles while doing parkour and the different basic movements.
Sometimes I run from the Brooklyn Museum to China Town. I normally start by Utica and run doing parkour from there all the way to Manhattan – sometimes it's an all-day thing. I just like the feeling of doing different things, travelling and challenging myself.
How often do you train a week?
Almost every day. Sometimes I wake up at 4 o'clock in the morning and put on my shoes and I'm out there training.
When I first started it was about being a stuntman and being this big name so if you knew parkour, you would know me. But now I realize it's literally therapy to me. If you try parkour, you will not be the same ever.
What does parkour mean to you?
I have a saying, "parkour is life". It makes you want to be more positive. It's a feel-good art.
What are your personal goals with parkour?
To just keep teaching, even if I can't run anymore. I want to use the experience and knowledge I have and share it with other people and to make people understand what this feels like and what it can do for you.
What ages are the people you train?
From the age of four. The oldest I've trained is 60.
Where do you see parkour going in the future?
I see this going really far. I see this as the next thing you will see in schools and the Olympics.
See a sample of Ninja in action below:
Music by Mani Garcia
Special thanks to Mani Garcia and Nadia Lesy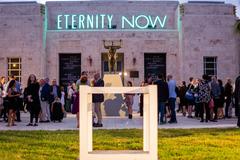 Previous:
Jul 14, 2015