The Driver: Q&A with Director Michael Pitt
Jun 4, 2015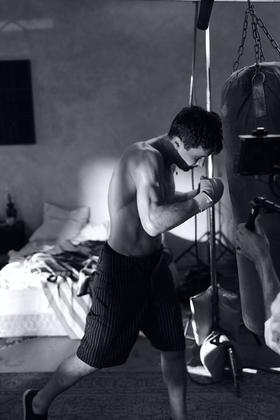 Michael Pitt on set of The Driver
Over the course of just two and a half days late last October, we shot our SS15 Campaign. A straightforward campaign shoot can take that long. But this was no straightforward campaign.
Michael Pitt, who has fronted previous rag & bone menswear campaigns, proposed we make a film together to showcase our SS15 collections.
This film would have a proper narrative with dialogue and the star would not only feature in it, he would direct it.
Joining forces with his previous co-stars Astrid Berges-Frisbey (from I Origins), the face of our womenswear campaign, and Stephen Graham (Boardwalk Empire), Pitt made his directorial debut with The Driver.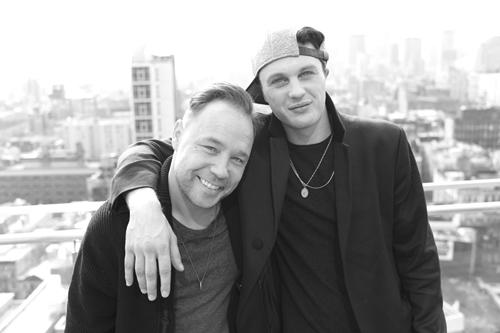 Michael Pitt on set with actor Stephen Graham
Following its full launch this week, we caught up with the star to discuss his work and thoughts on the film...
The Driver is your directorial debut. From the overall experience, do you have a newfound respect for directors and is this a career path you plan to explore further?
I always had a lot of respect for directors I had worked with. I think if you look at my resume, my choices have been very director-oriented. Yes, I will be directing films in the future. A lot of the skills I have been collecting as an actor, as a musician and as a writer have been all moving forward that direction. When I was on set working with my actors and my crew, I felt at home and completely satisfied and inspired and I love that environment.
You also created The Driver's original score. Can you share your process - did you compose the tracks first or after filming had been completed?
The original score of The Driver is a compilation of tracks I recorded with Pagoda. Beside tracks that never found a place in a record, there were instrumental tracks that were never finished because I ran out of money and experimental solo tracks I recorded on my journeys. I brought a hard drive full of music to my editor Marco Perez, with the idea of working with it as temp music and through the editing process, the music became interwoven with the image and then became part of the tone of the film.
You have appeared in many mob/crime movies and have more lined up. What is it about this genre that you find so appealing?
I think mob movies or crime movies in a lot of ways show the good and the bad aspects of what we called the American dream. I think that's why they are entertaining. I think that is something very appealing. It is something that has become part of American culture and it's continuing to be part of American culture, for better or for worse. With the nature of this project the idea was to set these characters and set up a plot line and hopefully continue this story. For me, The Driver is less of a crime movie, but more of a film noir. The plot is built around the idea that every character is sort of chasing that American dream and feeling like it's going to change their life and get them out of whatever situation they are in. There is one film that comes to mind, that I had watched recently, America America by Elia Kazan.
You have starred alongside some of the most talented people in the industry. Is there anyone you have particularly enjoyed working with?
Yes, every actor in my film. I would feel very grateful to work with them on anything in the future. In this film three of the characters were three actors I had worked in the past, Astrid and I had met making I Origins, Stephen on Boardwalk Empire and Ivan on You Can't Win (not released yet).
Head over to the campaigns page to view the full film ...